Lodge am Krippenstein je pravděpodobně nejvýše položená Plzeňská pivnice.
V Rakousku, v zemi bílého vína a radleru skutečně najdete Plzeňskou pivnici. Je položená ve výšce 2109m. n. m. v podniku, který najdete na dohled o východu z nejvyšší stanice lanovky, která vede nad vcelku řádnou propastí, takže pivo je po dokončení výstupu pro mnohé velkou odměnou.
Čepují z originální pípy, která je ve velmi pěkném stavu. Sklo je opotřebované, není nikde ostré, pouze je občas jemně poškrábané od myčky. Sklo je perfektně čisté, není na něm znát žádná známka sebemenších nečistot. Před čepováním je sklo velmi jemně ostříknuto vodou, určitě by to chtělo vody více, nicméně v této výšce, kde se každý litr pitné vody dováží, je pochopitelné, proč s vodou šetří. Sklo má při čepování pokojovou teplotu, což je škoda, nicméně je to opět pochopitelné, v podniku šetří každým centimetrem prostoru.
Pivo je čepováno vcelku rychle, nicméně pěna rychle spadne z důvodu nedostatečně propláchnutého skla. Chuť je vcelku průměrná, ke konci zákazníka překvapí hořko-kyselý závěr, který by zde určitě neměl být.
Závěrem se dá říci, že zde dostanete pivo do čistšího skla, než je v polovině podniků v ČR s průměrnou chutí, která potěší každého horala, který je zmožený tůrou. Na to v jaké se pivo čepuje výšce je to příjemný výsledek. V nížině blízko civilizace, by takový výsledek v konkurenci neobstál.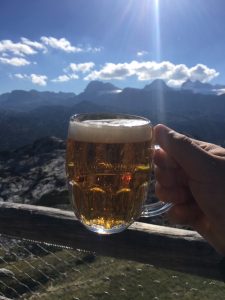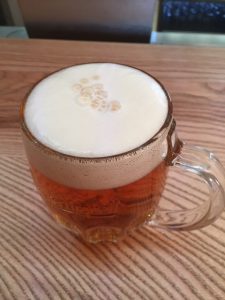 Hodnocení: 3.5 / 5
Cena: CZK